Hospice and Home Health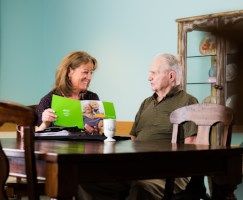 Our Hospice and Home Care services combined provide care to over 600 patients and families annually. Through the Hospice and Home Care fund the comfort, care and resources offered to these patients and their families is enhanced each year. Donations help to provide an extraordinary environment, education, and resources for our patients and families and support programs like Project Wish and Mom and Baby Home Care.
Project Wish
Project Wish offers every patient through our hospice service the opportunity to be granted a wish. This wish will provide comfort, closure or a special memory for them or their loved ones. Project Wish is shared with each patient and their families upon admission and one wish is granted to every patient. Wishes may often seem like a simple request, but they immeasurable impact for our hospice patients. Philanthropic support helps to make these wishes possible for every patient. Wishes have included a special meal or daily snack, a recordable memory book, help with coordinating a special outing with family, travel arrangements to help bring a loved one to be with them and more. Our mission is to provide comfort and care because every moment is precious. 
Mom and Baby Home Care
Mom and Baby Home Care is a program focused on helping our most precious patients, newborns.  Our certified Home Health nurses provide an extension of the great education and care that new mothers receive while in the hospital. Some mothers need a little more support and education beyond their hospital stay and the Mom and Baby Home Care program offers this important resource.