The Meaning of Care Awards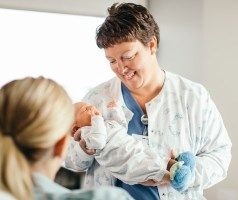 Express your gratitude to a specific Methodist Fremont Health employee with a tribute gift to the Fremont Health Foundation.
Our caregivers have one goal: to care for you in the best possible way. Each day, our staff and providers do large and small things that touch the lives of patients, residents and their families.
Perhaps it was a kind word or a smile…that brought you or your loved one comfort. It may have been a life-saving procedure by a physician or nurse, or a cheerful visit from a chaplain or volunteer.
Making a donation in their name to the Fremont Health Foundation is a lasting way to say "thank you" to the caregivers who were there when you needed them the most. And you can feel confident about your donation because 100% of every gift will go to the program or project YOU choose.
How the award program works
Complete the form below to identify the person you wish to recognize. While keeping the dollar amount confidential, we will send a letter announcing that you have recognized the honoree and notify their supervisor of your appreciation. The person honored by your gift will receive a custom Methodist Heart and Dove logo pin to wear proudly every day. You will receive a letter of thanks and a photo of them accepting their award.
If you can't make a donation today, we would still love to hear your positive story about an individual or team that touched your heart during your care experience. Please send an email to MFHFoundation@nmhs.org or call (402) 727-3566.
---