Diabetes Education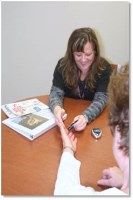 Over 20 million Americans have diabetes and another 54 million have prediabetes. This life-long disease presents difficult challenges. Methodist Fremont Health's comprehensive diabetes services can provide patients with essential education and support to help manage the disease and reduce the risk of complications.
Diabetes Education has been an important service to patients in our community for many years. With referrals to our program, patients diagnosed with diabetes learn how to manage the disease and live their lives with diabetes.
Through philanthropic support, the Foundation has helped to make sure that all patients referred to our program get the necessary education they need regardless of their ability to pay, and to enhance this education through continued community outreach.
Gifts to the Diabetes Education Fund help provide necessary funds to continue to provide annual support for this critical program, as well as enhance the education within our primary care clinics including vulnerable patient populations such as pregnant women. Your support directly helps individuals in Fremont and the communities we serve with education, enhanced community outreach, and diabetic supplies.