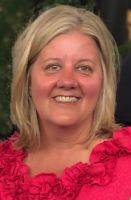 FREMONT, NE – July 11, 2019:  Methodist Fremont Health has selected Shawn Shanahan to serve as Director of the Fremont Health Foundation. In this role, Shanahan will lead all fund development activities, donor and community relations, and a wide range of ongoing programming and special project efforts. She replaces Anne Folkers, who left to take on a role at the Suzanne and Walter Scott Foundation in Omaha.
Shanahan comes to the Fremont Health Foundation after nearly nine years leading the Fremont Area United Way as Executive Director. Under her leadership, the Fremont Area United Way has moved from a traditional fundraising organization to a community impact organization with a focus on basic needs, education, health and income. She helped start the Fremont Family Coalition and along with a variety of community partners, has championed a number of important prevention programs related to child and family welfare.  Shanahan also took a significant leadership role in helping our community respond to the recent spring flooding disaster.
"Shawn is a true change agent and she has helped created tremendous impact through her many years of service in our community. We are happy that Shawn will continue to use her talents in our community through the Fremont Health Foundation," Bill Vobejda, VP at Methodist Fremont Health said.  "With Shawn's help we hope to further expand our available resources support key areas of our programming. Philanthropy continues to play a critical role in healthcare and we are fortunate to have Shawn join our team."
The Fremont Health Foundation is a non-profit organization founded in 1976 as a sole support organization for Methodist Fremont Health and has a board comprised of 11 community members. 
"At the Foundation, we focus on our mission of developing relationships and resources to advance patient care and clinical excellence at Methodist Fremont Health, and with Shawn's help we will be able to further grow our support for programs at Methodist Fremont Health and our community as a whole,"  Jennifer Benson, President, Fremont Health Foundation Board said. "Shawn knows our community like few others and has a tremendous ability to raise funds and develop impact programs that have lasting effect." 
"I love this community and I'm thrilled to be able to continue my work in this new capacity," Shanahan said. "Joining the Fremont Health Foundation allows me to grow personally and develop my career professionally in a new industry while still being able to create lasting impact in my community. The Fremont Area United Way is in a great place organizationally and is poised to do so many great things in the future – I have no doubt they are in good hands,"  she added.
Shanahan is expected to start her new role at the Fremont Health Foundation in mid-August. 
For more information on the Fremont Health Foundation go to:   https://fremonthealthfoundation.org