Leading the Way Awards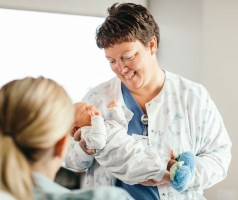 Express your gratitude and appreciation to a specific Methodist Fremont Health employee.
Methodist Fremont Health leads the way in providing the highest level of compassionate care. We have many extraordinary employees who live our values and mission every day, and who often go above and beyond for patients and their families. Perhaps it was compassionate care, a kind word or gesture that brought you and your loved one comfort. It may have been the teamwork of our physicians and nurses that saved a life or brought hope and healing during a critical time. Maybe it was simply a visit with our chaplain, volunteer or staff member that brightened your day.
Through our Leading the Way Awards program, you can recognize these individuals and show your gratitude.  By making a donation in their name to the Fremont Health Foundation, you are helping to make a difference in the lives of patients and families in the communities we serve.  This gesture is an impactful and lasting way to say "thank you" to the important caregivers who were there when you needed them.
How to participate in the Leading the Way Awards Program
1. Simply complete the form below to identify the person(s) you wish to recognize.
2. This gift can be designated to the program of your choice to go directly toward impacting this department or service, or to the area of greatest need at Methodist Fremont Health.
3. We will then recognize the honoree with a letter sharing your gratitude (keeping the dollar amount confidential), a small gift, and will notify his or her supervisor of your appreciation.
4. You will receive a letter of thanks for this generous gift of gratitude.
If you can't make a donation today, we would still love to hear your positive story about an individual or team who made a difference in your care.  Please send an email to foundation@fremonthealth.com or call (402) 727-3566.
---